St. Thomas the Apostle
On February 21, 1947 Father David Sullivan was appointed as the founding pastor of the new St. Thomas the Apostle Church to serve the northern part of Mobile County. Defense Industries of the early 1940's had brought an influx of new residents to the Village of Chickasaw, and Bishop Toolen saw the need for a church there. Until then, local Catholics had attended St. Bridget's Catholic Church in the neighboring town of Whistler. As the population grew, the priest from Whistler, Father Littleton, came to offer 9am mass in Chickasaw on Sunday at whatever location was available.
The young Father Sullivan soon won the hearts of parishioners with his deep spirituality and dedication to the new parish. Eight lots with 40 feet fronting Craft Highway were purchased from the owners of all the land in Chickasaw at the time, Gulf Shipbuilding Corp. The parishioners offered ready support to the dream of building a church. The men of the parish offered their labor to build the church after their regular eight-hour a day jobs were finished. On May 14, 1949, (Mother's Day), the permanent church was dedicated.
From the establishment of the parish, another dream was forming about a parish school. Some of the children went to Mobile area Catholic Schools. Father Sullivan and the parishioners went to work refurbishing a Quonset hut to serve as the first parish school. On Tuesday, September 6, 1959, the new St. Thomas the Apostle school opened. The Dominican Sisters from Sinsinaw, Wisconsin came to serve the new parish and school. After 30 years, with the drop in enrollment, the school closed in 1989.
Click here for the Alumni Questionnaire
Father William P. Saucier was appointed pastor of St. Thomas the Apostle Catholic Church in October, 2005.
The following priests have served St. Thomas the Apostle as Pastors:
Father David Sullivan                     1947 to October 1958
Father John O'Hara                        1958 to January 1966
Father Thomas Lorrigan                1966 to April 1968
Father Francis O'Conner                1968 to September 1968
Father Cecil Gill                               1968 to September 1972
Father Patrick Maher                      1972 to June 1978
Father Kenneth Klepac                   1978 to January 1980
Father Andrew Stauter                   1980 to September 1983
Father Alex Sherlock                       1983 to June 1986
Father Matthew O'Conner             1986 to 1993
Father John Lynes                          1993 to October 2005
Father William Saucier                   2005 to Present
Sister Anne Matisek of the Congregation of St. Agnes came to serve the Parish as Pastoral Assistant, after the school closed.
St. Thomas the Apostle Catholic Church and School were very blessed to have had the Dominican Sisters from Sinsinaw, Wisconsin. After our school closed many of the sisters moved on from our little parish. Below are a few write ups, which tells the story of just how much they enjoyed serving God and His people.
Sister Anne Matisek, CSA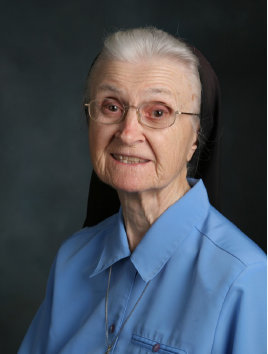 Sister Anne Matisek, CSA, formerly known as Sister Wilhelmine, died peacefully in St. Agnes Hospital on August 30, 2014.
Anne was born in Atwood, KS, on November 9, 1919, to Joseph Matisek and Anna Kytner Matisek. Her family included eight girls and two boys. She made her profession of vows as Sister Wilhelmine in the Congregation of Sisters of St. Agnes on August 15, 1939. Sister received a B.S. in Education from Marian College of Fond du Lac, WI, and an M.A. in Education from Creighton University, Omaha, NE. She taught middle school students for 18 years in WI, NY, and KS, before being assigned to teach math in high school for 14 years in WI and NY. For nine years Sister served as principal and middle school teacher in Colby, KS. In 1980 Sister Anne went to Mobile, AL, to assist in the Service Center of Catholic Social Services. Within the year she took a pastoral ministry position at Our Savior Parish and ministered there for eight years. Next she was pastoral minister at St. Thomas Parish in Chickasaw, AL, for 17 years. Sister Anne moved to Montgomery, AL, where her ministry was one of presence until she fully retired in 2011, becoming a resident at Nazareth Center in Fond du Lac.
Sister Anne was preceded in death by her parents Joseph Matisek and Anna Kytner Matisek, and by her siblings: Jerry Matisek, Joseph Matisek, Jo Matisek, Lyda Harvanek, Agnes Leitner, Mary Jane Duncan, Frances Wilson, Helen Myers, and Ruth Matisek.
Sister is survived by numerous devoted nieces and nephews and their families, and by the Sisters of St. Agnes, with whom she lived, prayed, and ministered.
Visitation for Sister Anne will be September 4, 2014, at 9:30 a.m., at Nazareth Court and Center, 375 Gillett Street, Fond du Lac, Wisconsin. A prayer service will be held in the Nazareth Center Chapel at 11:30 a.m.
A Mass of Christian Burial will be celebrated at 2:00 p.m. on September 4, 2014, at St. Francis Home Chapel, 33 Everett Street, Fond du Lac, Wisconsin. The presider will be Father Ken Smits, Capuchin. Burial will follow at St. Joseph Springs Cemetery.
Memorials can be directed to the Sisters of St. Agnes Development Office, 320 County Road K, Fond du Lac, WI 54937.
The Sisters of St. Agnes are grateful to the nurses and staff of Nazareth Court and Center for their care of Sister Anne in these last years of her life.
Zacherl Funeral Home is serving the Sisters of the Congregation of St. Agnes.
Sister Gonsalvo Mandershcheid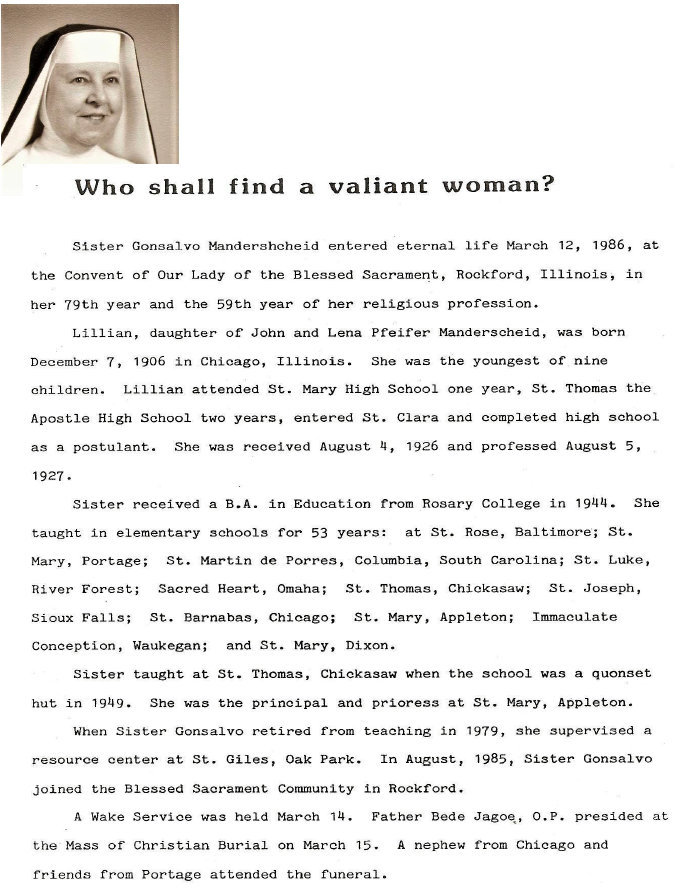 Sister Magdalena Campbell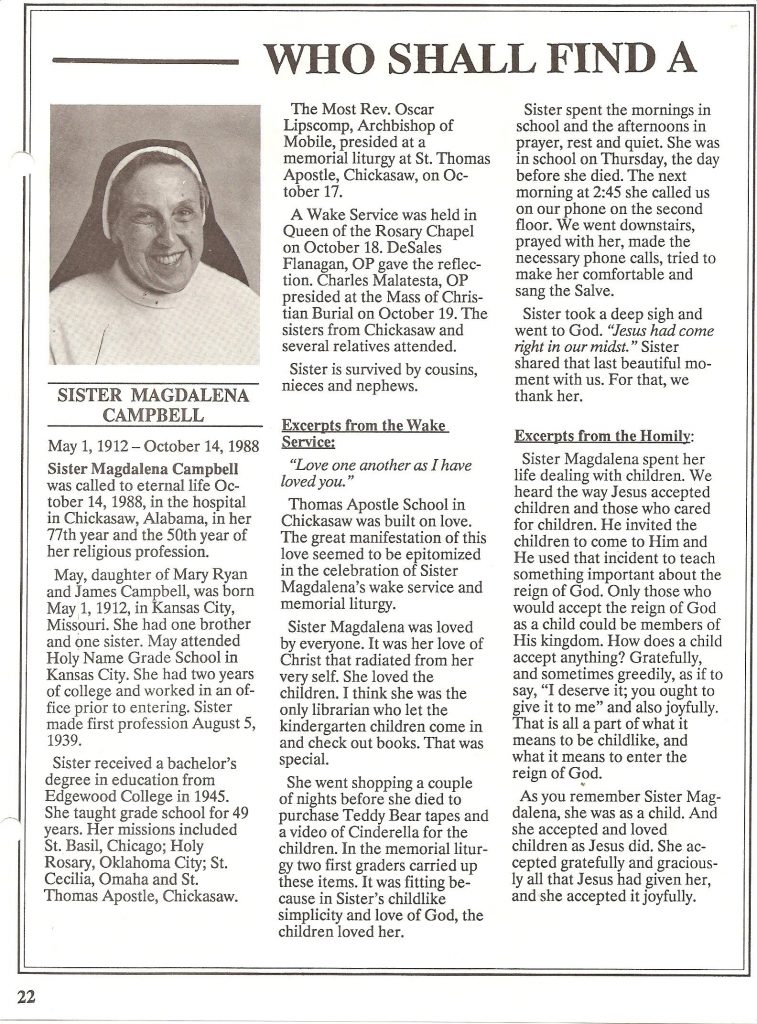 Sister Leolus Jonke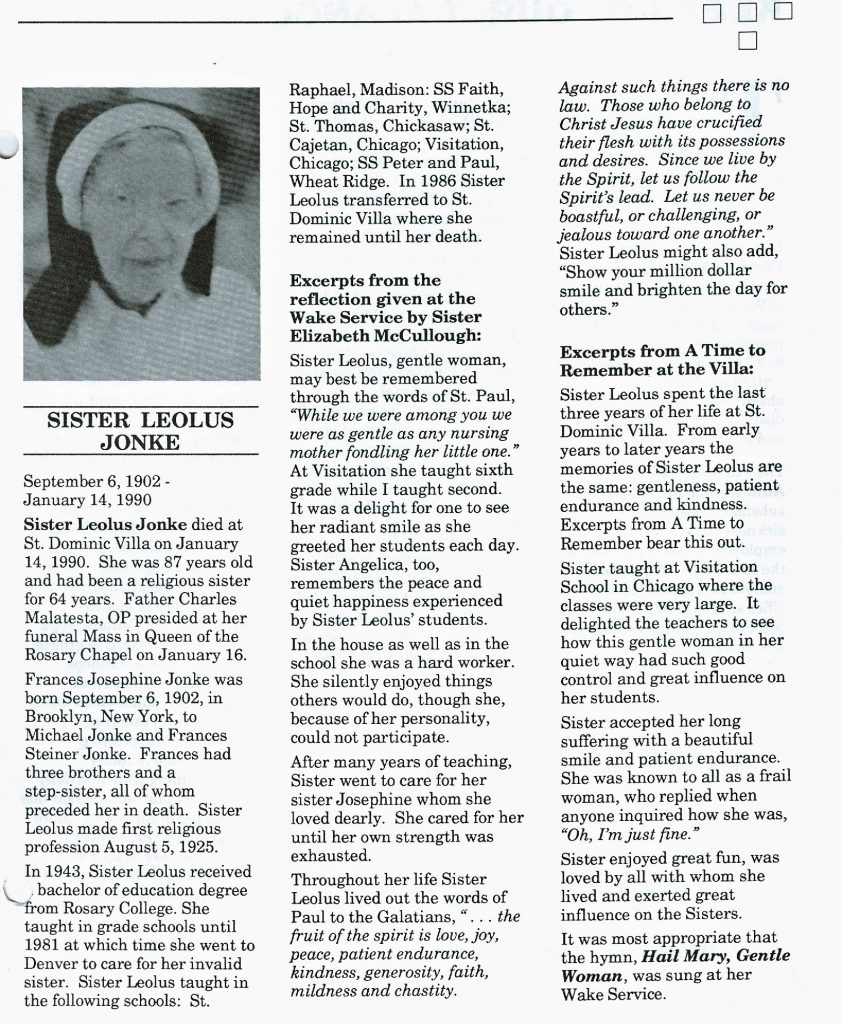 Sister Bernice Kelly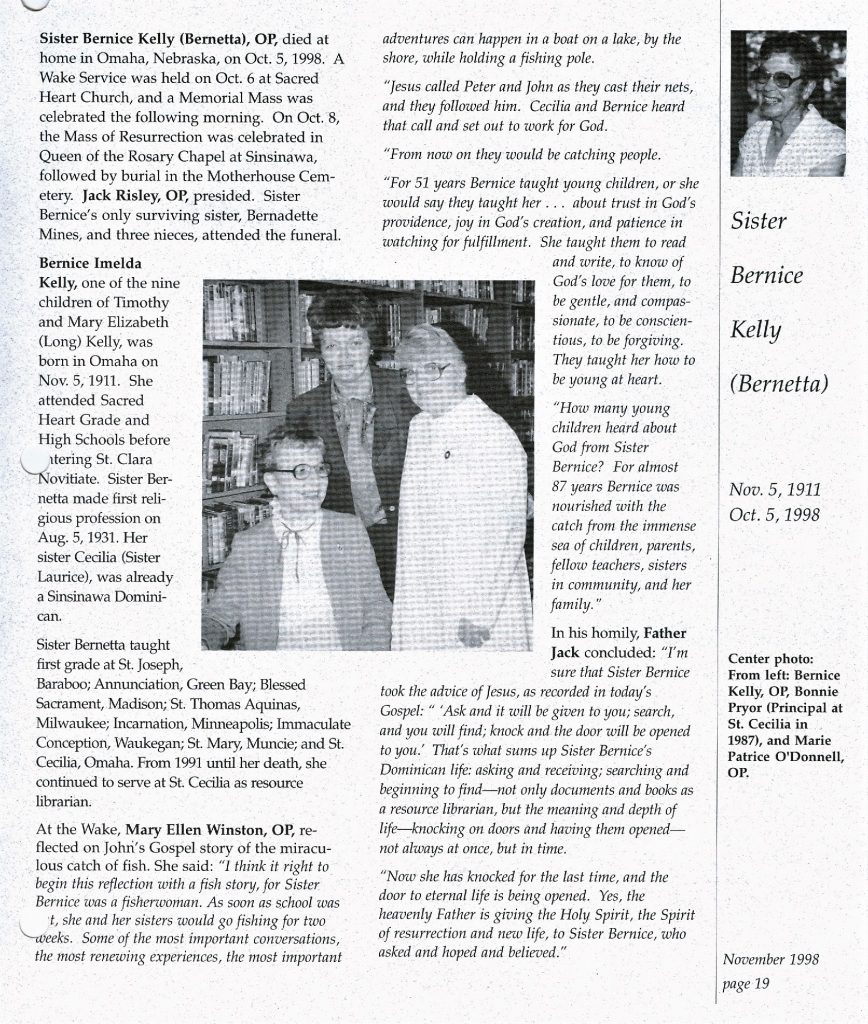 Sister Damiana Kilroy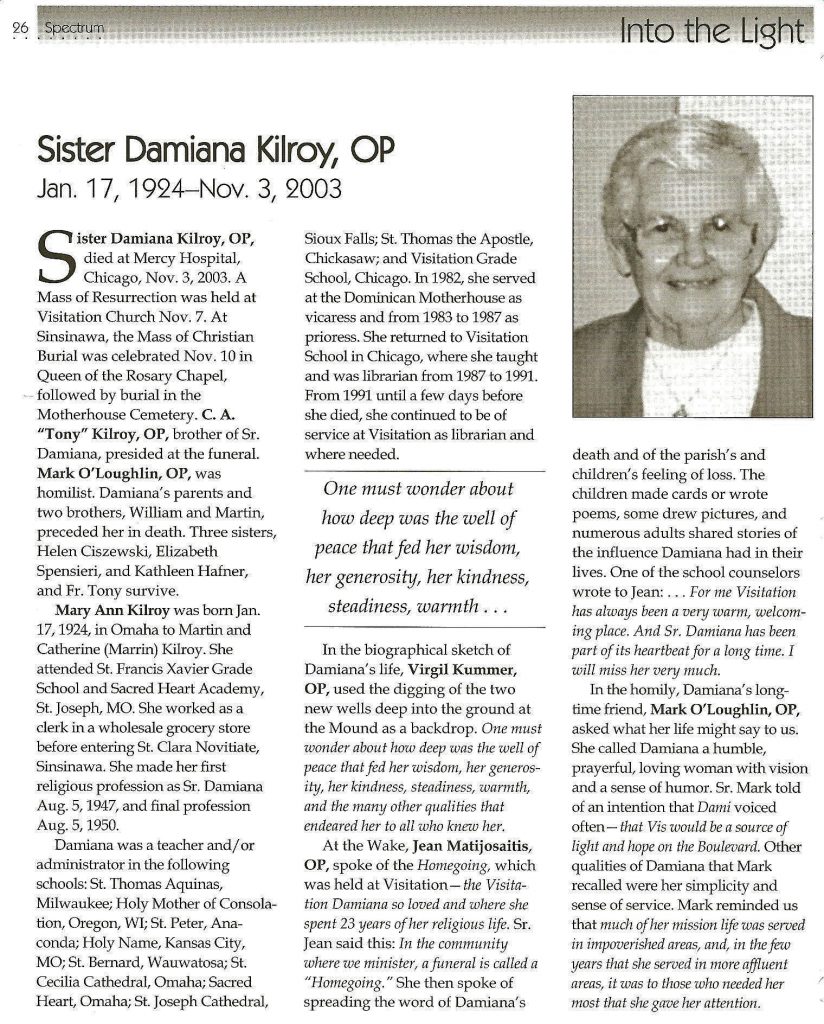 Sister Mary Elizabeth Premo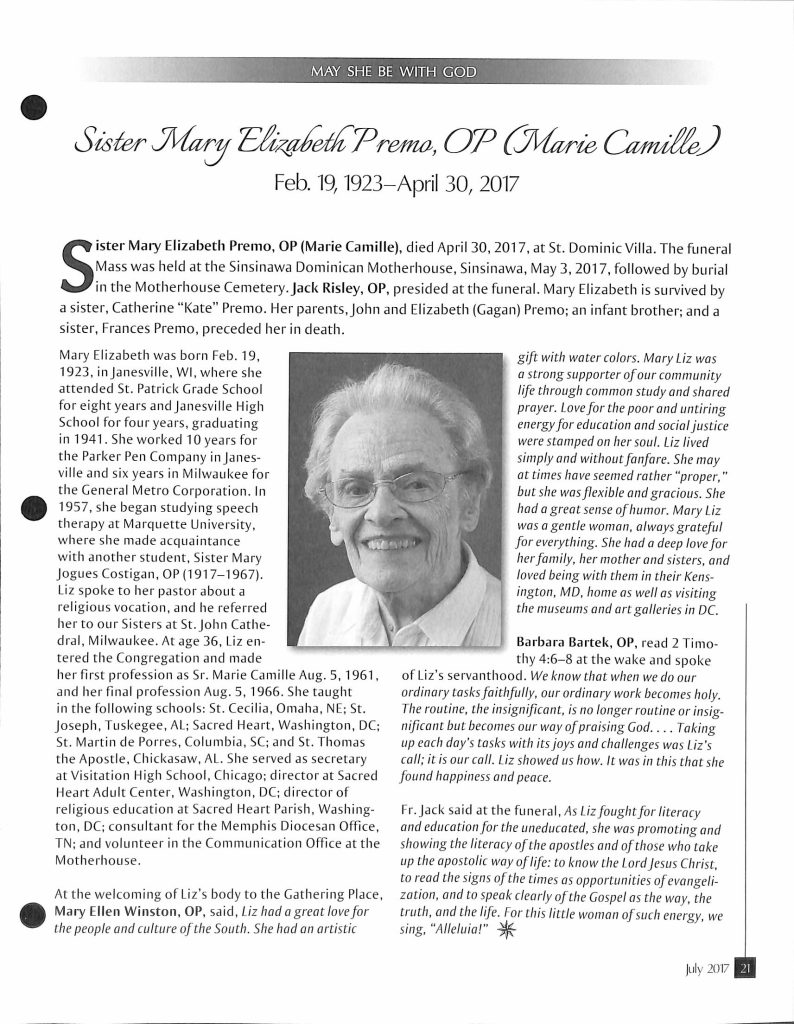 Sister Mary Dominicana Skeffington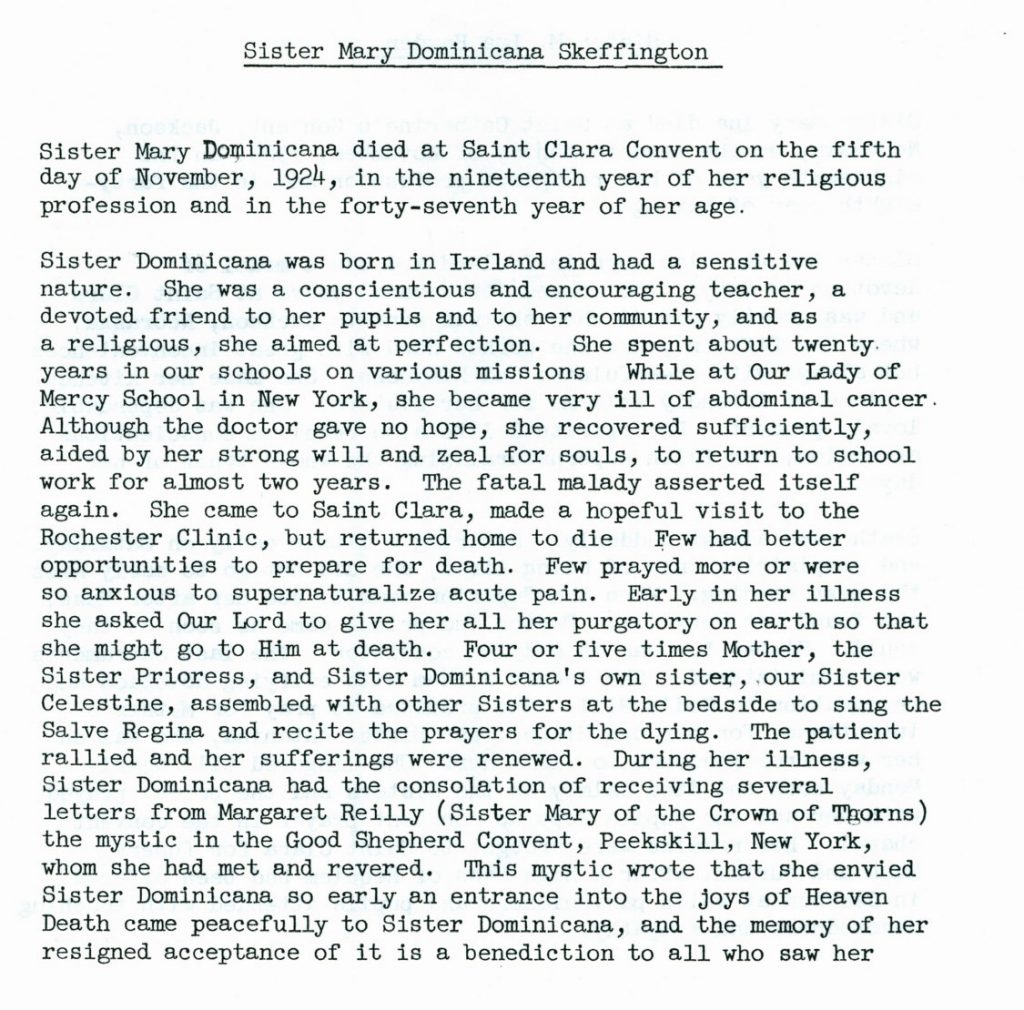 Sister M. Aupert Slechta